A Nebraska lesbian couple seeking a divorce from their marriage (legally performed in Iowa in 2009) have petitioned their case to be heard by the state's Supreme Court, following a lower court's ruling that the state cannot recognize the marriage in the first place. The Lincoln Journal Star reports: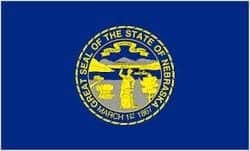 Lancaster County District Judge Stephanie Stacy in August dismissed [Bonnie and Margie Nichols'] divorce case, rejecting arguments that the court could grant the divorce without recognizing the marriage.
"A finding that the marriage is irretrievably broken — by its very nature — cannot be made without recognizing the marriage itself, and it stretches logic and common sense to conclude otherwise," Stacy wrote in her order.
The case is currently before the state Court of Appeals, but an attorney for the couple has petitioned to get it kicked up to the state Supreme Court.
ACLU of Nebraska and Legal Aid of Nebraska on Thursday chimed in, filing friend of the court briefs in support of the appeal. Nebraska Attorney General Jon Bruning's office filed a brief asking that Stacy's ruling be upheld.
Bruning's office argued the constitutionality of Nebraska's same-sex marriage law shouldn't be considered and said divorce isn't a right.