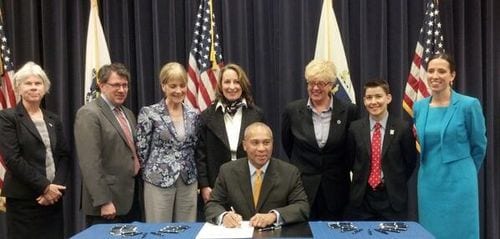 Massachusetts Governor Deval Patrick today signed an anti-bullying bill into law strengthening protections for LGBT students and students with disabilities, the Boston Herald reports.
GLSEN applauded the law:
"As the 17th state to pass inclusive anti-bullying legislation, Massachusetts is sending an impactful message to its LGBT youth," said Dr. Eliza Byard, GLSEN's Executive Director. "LGBT students in Massachusetts can feel confident their educators are committed to providing them with the safe and inclusive school environments they deserve. GLSEN looks forward to the day when every student in every school in the country can feel just as supported."
H. 3909, "An Act Relative to Bullying in Schools," will update existing anti-bullying legislation by requiring every district to include specific protections in their bullying prevention plan recognizing frequently targeted groups, including LGBT youth.
The legislation will also implement two key methods of tracking incidences of bullying: a student survey to be conducted every four years gathering information about school safety and climate, and a data collection and reporting mechanism allowing officials to better measure and evaluate the impact of anti-bullying efforts.
The Massachusetts House and Senate approved the bill in February and March, respectively. Gov. Patrick, a longtime supporter of bullying prevention initiatives such as a limited 2010 law designed to help educators report, prevent and address bullying, signed the bill in a ceremony today.