Mother Jones reports that the CEO of OkCupid, which blocked Mozilla's browser Firefox in a highly-publicized move over Brendan Eich's donation to California's Prop 8 campaign, once donated to an anti-gay candidate: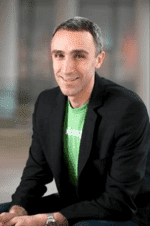 OkCupid's co-founder and CEO Sam Yagan once donated to an anti-gay candidate. (Yagan is also CEO of Match.com.) Specifically, Yagan donated $500 to Rep. Chris Cannon (R-Utah) in 2004, reports Uncrunched. During his time as congressman from 1997 to 2009, Cannon voted for a constitutional amendment banning same-sex marriage, against a ban on sexual-orientation based job discrimination, and for prohibition of gay adoptions.
He's also voted for numerous anti-choice measures, earning a 0 percent rating from NARAL Pro Choice America. Among other measures, Cannon voted for laws prohibiting government from denying funds to medical facilities that withhold abortion information, stopping minors from crossing state lines to obtain an abortion, and banning family planning funding in US aid abroad. Cannon also earned a 7 percent rating from the ACLU for his poor civil rights voting record: He voted to amend FISA to allow warrant-less electronic surveillance, to allow NSA intelligence gathering without civil oversight, and to reauthorize the PATRIOT act.
Of course, it's been a decade since Yagan's donation to Cannon, and a decade or more since many of Cannon's votes on gay rights. It's possible that Cannon's opinions have shifted, or maybe his votes were more politics than ideology; a tactic by the Mormon Rep. to satisfy his Utah constituency.
Buzzfeed reporter Chris Geidner feels the article's premise is deceitful:
"That story about the OKCupid CEO has a misleading headline and premise and is organized almost like the intent is to deceive folks."
Adds Geidner: "They didn't do the same thing. Donating to a candidate involves many variables; an issue campaign is, by definition, that issue."