Egypt has sentenced four men to prison for homosexual acts, the BBC reports: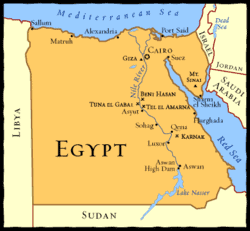 The men were accused of attending or arranging "deviant" sex parties, and dressing in women's clothes and wearing make-up. Egyptian law does not explicitly ban homosexual acts, but prosecutors have used legislation banning debauchery to try homosexuals.
The verdict has been condemned by human rights campaigners.
One of the men was jailed for three years with hard labour by the court in Cairo. US-based Human Rights First group said it was "alarmed and disappointed" at the verdicts.
More from Human Rights First:
Human Rights First today expressed serious concern over news reports that three Egyptian men have been sentenced to eight years in prison and a fourth man sentenced to three years in prison for "homosexual acts." The men were convicted by an Egyptian court today for violating Article 9(c) of Law 10/1961, which provides a penalty of up to ten years for "habitual debauchery."
 
"We are alarmed and disappointed to hear of the verdict convicting these men based on their sexual orientation and identity." said Human Rights First's Shawn Gaylord. "Egypt is a bellwether state in the Arab region; what happens in Egypt sets a trend for developments throughout the Arab world.   The United States has a long-standing, close and complex relationship with Egypt, and it must use its leverage to protest the expansion of the crackdown on political dissent and now LGBT people. We urge the Obama administration to immediately condemn this ruling and to calculate these latest sentences in its assessment of how to take concrete steps to advance human rights and the rule of law in Egypt.  When President Obama spoke in Cairo in 2009 about protecting 'the principles of justice and progress; tolerance and dignity of all human beings' he certainly meant all Egyptians, including LGBT people."
HRF says arrests of LGBT people have increased dramatically since Morsi was ousted in 2013.