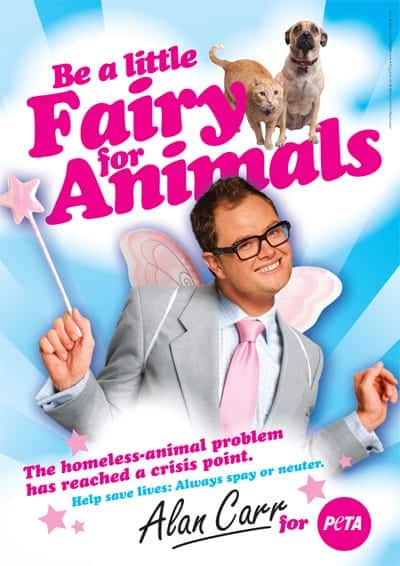 UK talk show host Alan Carr is speaking out after an ad he did for PETA caused some Twitter users to attack him for perpetuating stereotypes and accommodating slurs directed at gay men.
Tweeted Carr in response:
"The 'fairy' in the @Peta campaign refers to my 'Tooth Fairy' DVD that's all. Take my advice if you act like a victim you get treated like 1…Don't worry twitter they'll be another bandwagon you can jump on in a minute zzzzzzzzzzzzzz…Hey and before all you oh so worthy gays get back on your high horse the most homophobia I get is from gays. #selfloathing"
PETA released a statement in response to the controversy:
"PETA, like Marmite, welcomes vigorous discussion about our ads because getting people talking is the first step in raising awareness of important animal issues. Alan Carr's ad humorously conveys the very serious homeless-animal crisis that has caused hundreds of thousands of animals to languish in shelters across the country and means thousands of healthy, highly adoptable animals are being euthanized, simply for lack of homes. The only solution to this growing problem is for people to sterilize their animal companions, and we're very grateful to Alan for lending his support to the campaign."