After a public hearing following a parent's request to remove David Levithan's Two Boys Kissing from the Fauquier High School library in Virginia, a review committee voted unanimously to keep the book on school shelves.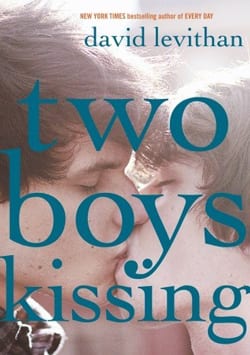 Fauquier.com has more:
A large crowd upwards of fifty people gathered in the Falcon Room at FHS. About 24 people gave their opinions on the matter and about six letters were read from those who couldn't attend the meeting, including one from the author of the book, David Levithan. The comments made at the hearing showed an even split in opinion…
FHS parent Jessica Wilson made an official complaint to remove the book from the school library on Feb. 7, because she believed that the cover of the book condoned public displays of affection, which are against school policy…
Marie Miller, a teacher at FHS and the advisor for the school publication The Falconer said… "If the focus of this book was on heterosexual teen relationships, it would not be the subject of a book challenge…
The committee included Judy Olson, a parent of an FHS student, Lauren Milburn, an administrator at Liberty High School, Emmett Bales, a teacher at FHS, Kim Ritter, a librarian at Kettle Run High School, Weiher and chaired by Fauquier County Public Library Director Marie Del Rosso.
While other parents said that the book's repeated use of "the f-word" would make it an R-rated movie inaccessible to most high school age teens, a  LGBT-identified graduate from Fauquier's public schools attested that books like Two Boys Kissing and The Perks of Being a Wallflower helped him feel less alone and more comfortable with his identity.
Levithan's book (which we reviewed) was nominated for a 2013 The National Book Awards in Young People's Lit. The parent who lodged the initial complaint may still appeal the committee's decision to the school board if she so chooses.