LGBT advocates have been pressing for President Obama to issue an executive order barring discrimination against LGBT workers as the Employment Non-Discrimination Act languishes in Congress, faced by a House Speaker who says there is no chance he'll bring it to a vote.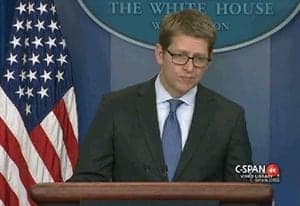 Thus far, the Press Secretary Jay Carney has insisted Obama supports such workplace protections but has directed questions from reporters asking if Obama will issue such an order to what it has said in the past, that the President would like to see the law passed by Congress.
Yesterday, Carney took the explaining a bit further, the Washington Blade reports:
"I think if the law passed — and I'm not a lawyer — and I haven't read every sentence of the law, but I think if a law passed that broadly banned this kind of employment discrimination, it would make redundant an executive order," Carney said.
Carney articulated his belief that an executive order would be "redundant" in the event ENDA became law after emphasizing the broad-based protections under the bill, which applies not just to federal contractors, but to many public and private employers.
"I think the employment non-discrimination legislation, the Employment Non-Discrimination Act, would broadly apply, and that's one of the reasons why we support it," Carney said. "Because it's a broad solution to the problem, and it ought to be passed by Congress."
HRC lashed out at Carney:
"We couldn't disagree more," Sainz said. "Even if ENDA passed tomorrow, we'd still want the EO. His assertion is completely out of step with over 60 years of social change strategy related to enduring legal protections for race and gender and more recently for hate crimes and non-discrimination protections on the basis of sexual orientation and gender identity. What he's asserting is the equivalent of saying that if ENDA passed tomorrow, we wouldn't need non-discrimination laws in the majority of states that still don't have them. That's absolutely not the case."
195 lawmakers recently sent a letter to Obama urging him to issue the executive order. Vice President Joe Biden called on Congress to pass the bill in a recent speech to HRC in L.A. And DNC Treasurer Andy Tobias expressed frustration on a listserv about the President's unwillingness to issue it, calling it "frustrating and perplexing."
On a related note, the Blade, in a separate article wants to introduce you to the 8 House Dems who don't co-sponsor ENDA. They are Reps. Dan Lipinksi (Ill.), Jim Costa (Calif.), John Barrow (Ga.), Mike McIntyre (N.C.), Pete Gallego (Texas), Henry Cuellar (Texas), Gene Green (Texas) and Nick Rahall (W.Va.).