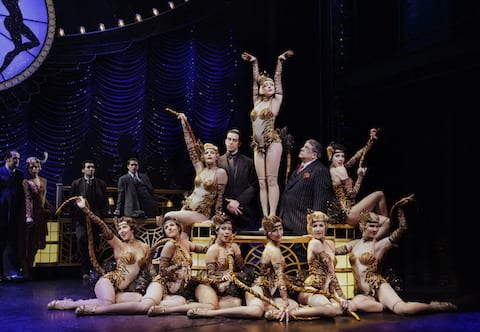 BY NAVEEN KUMAR
Of the many musicals to roll off Broadway's assembly line of popular film adaptations, the arrival of Bullets Over Broadway at the St James Theatre on April 10 seems like a natural, if not exactly foregone conclusion. Written by Woody Allen with a buoyant musical score of standards from the 20s and 30s, the production helmed and choreographed by Susan Stroman spares no expense and radiates the sort of seductive visual glamour you'd expect from its creators. But the combo of Allen's idiosyncratic style with musical theatre makes for a strange marriage.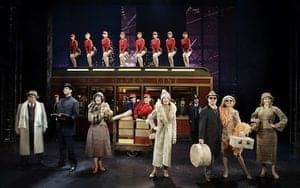 Like the 1994 film, which Allen co-wrote with Douglas McGrath, the musical tells the story of hapless playwright David Shayne (Zach Braff), who gets his new play produced on Broadway by notorious mobster Nick Valenti (Vincent Pastore) on the condition that Nick's birdbrained girlfriend Olive (Heléne York) play a part in the show. The cast comes together to rehearse, including its vain star Helen Sinclair (Marin Mazzie), the cloying Eden Brent (Karen Ziemba) with her puppy in tow, and perpetually hungry Walter Purcell (Brooks Ashmanskas). Olive's bodyguard Cheech (Nick Cordero) pipes in with unsolicited changes to the script, eventually becoming David's ghostwriter.
Allen's comedy assembles a cast of classic New York archetypes (neurotic writer, tough guy, dimwitted blonde, aging diva, etc.), and the film's stellar ensemble achieves a sublime sort of campy-chic, balancing over-the-top performances (theatre people are so dramatic) with enough vulnerability to ground their characters. The story would seem to lend itself well to a musical, where over-the-top is par for the course.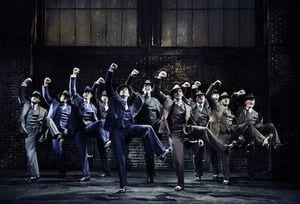 Stroman's production fares best in its beautifully choreographed musical numbers, from Cotton Club-style showgirl acts and a back-alley gangster tap dance to a hilarious chorus of singing hot dogs (yes, really). In dance she captures the fun, frenetic energy of the era, while scenic design by Santo Loquasto and costumes by William Ivey Long create a remarkable feast for the eyes.
Yet the show resists the same level of camp in dialogue as it embraces in song, feeling more often like a straightforward Broadway musical rather than a satire of one. On screen Allen's heady dialogue vacillates between subtle and bombastic, moving at the clipped pace for which his movies are known. While the book scenes are elevated enough here to make for typical musical theatre, they rarely reach the nuanced level of parody inherent to the story.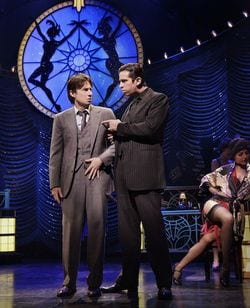 In his Broadway debut, Braff's likability does him credit, though his presence remains somewhat subdued (in his rendition of "I'm Sitting on Top of the World" the refrain "I'm just rollin' along" is maybe a bit too apt). Ms. Mazzie and Ms. York both shine in song, while Broadway vets Ashmanskas and Ziemba make the most of their roles, though they're mostly confined to repeating one-note bits (gluttony and a frisky pup, respectively).
As the tough guy with a mind for playwriting, Cordero emerges as the show's clear highlight. Just as Cheech takes over writing David's play with an ear for what works on stage, Cordero creates the sort of grounded character here that works so well in the movie. Cheech might have done wonders were he tasked with setting the tone for this show, too.
Recent theatre features…
Denzel Washington Opens in 'A Raisin in the Sun' On Broadway: REVIEW
Idina Menzel Opens In 'If/Then' On Broadway: REVIEW
Terrence McNally's 'Mothers and Sons' Starring Tyne Daly Opens On Broadway: REVIEW
New Production of 'Les Misérables' Opens On Broadway: REVIEW
New Musical 'Rocky' Opens On Broadway: REVIEW
Follow Naveen Kumar on Twitter: @Mr_NaveenKumar (photos:paul kolnik)