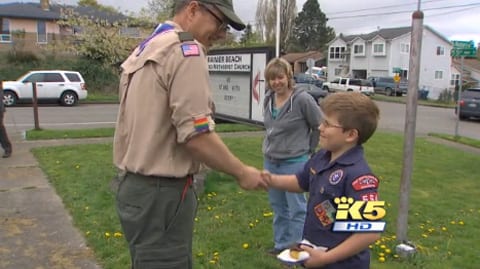 In early April we reported on openly gay Seattle scoutmaster Geoffrey McGrath, who was the first Scoutmaster ousted from his troop for being gay under new rules created last year. Rainier Beach United Methodist Church, which charters McGrath's troop, however, stood by him, and continued to allow him to lead the Scouts.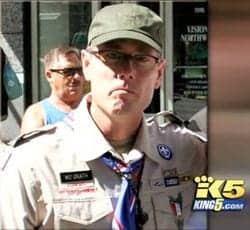 Now the BSA is responding by kicking out the church and revoking its charter, GLAAD reports:
In a letter dated April 17, Steven P. McGowan of the Boy Scouts of America's General Council notified the Rainier Beach United Methodist Church that its charter would be revoked:
"As you are aware, the policy of the Boy Scouts of America does not allow open or avowed homosexuals to serve as adult volunteer leaders […] Nevertheless, Rainier Beach United Methodist Church has stated that it will not remove [McGrath] as a leader and will continue to allow him to serve as an adult leader in violation of the charter agreement and the policies of the Boy Scouts of America. As a result of this refusal to comply with the policies, guidelines, rules, and regulations of the Boy Scouts of America, Rainer Beach United Methodist Church is hereby advised that it is no longer an authorized chartered organization and may no longer use the Scouting program or any of its registered marks or brands."
"That the Boy Scouts of America would punish a church and the young people of Troop 98 because the church's core values emphasize fairness and equality for all of God's children is simply unconscionable," said GLAAD President & CEO Sarah Kate Ellis. "The fact that the Boy Scouts of America chose Easter weekend to once again blatantly discriminate against gay and lesbian people, as well as the churches that support them, flies in the face of the values of Scouting and sends a hurtful message to youth."
"As a Reconciling Congregation, it's important to us that we are open to all people," said Rainier Beach United Methodist Church Pastor Monica Corsaro. "It's a part of our values that the spirit of inclusion is also reflected in the Boy Scout Troop we charter. The congregation stands with Geoff, because his work with this Troop reflects the spirit and the values of Rainier Beach United Methodist Church. In light of the BSA's decision to infringe on our religious liberties, sending us such discriminatory communication on Good Friday, we have acquired legal council to assess our options."
39 Washington lawmakers have signed a letter to the BSA expressing disappointment with their actions.