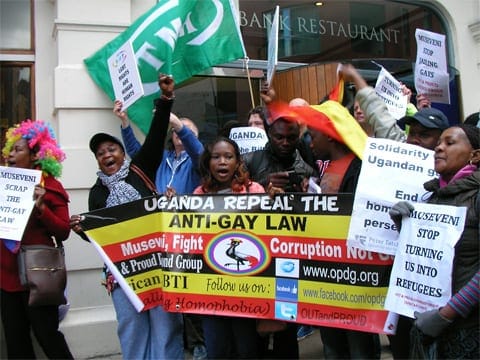 Ugandan President Yoweri Museveni spoke at a UK government forum last night at Lancaster House in London designed to promote UK investment in Uganda's economy, Ekklesia reports:
The opening of the forum saw President Museveni speak about trade and investment on the same day as the trial of two men charged with homosexuality starts in Uganda. The trial is the first since the new anti-gay law was passed earlier this year.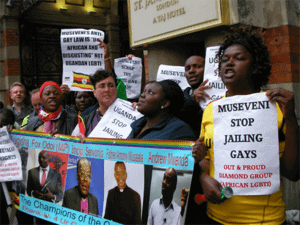 Museveni also spoke at the St. James Court Hotel where his speech was accompanied by "a constant background disruption" from a protest organized by the African LGBTI Out and Proud Diamond Group, with the support of STOPAIDS, the RMT union and the Peter Tatchell Foundation.
"Foreign Office collaboration with the Ugandan government and support for the UK-Uganda Business Forum calls into question David Cameron's commitment to tackling rising homophobia in Uganda and across Africa," according to the activists.
The demonstrators discussed the protest in a press release:
"It is hypocritical for the UK government to claim to be promoting LGBTI rights internationally and at the same time rolling out the red carpet for regimes like Uganda that persecute gay people," said Edwin Sesange, the Ugandan Director of the African LGBTI Out and Proud Diamond Group.
"The UK government should come clean on its progress with promoting gay rights in countries like Uganda that they host and collaborate with. At this early stage since the Anti-Homosexuality Act (AHA) became law, it is questionable for Ugandan government ministers to claim that the campaign against the homophobic legislation has had no effect on the Ugandan economy and inward investment. President Museveni is more likely to attract foreign investors if he ensures good governance, financial probity and human rights. The AHA is a negative, which is turning off many would-be western investors," said Mr Sesange.
Peter Tatchell (below, right), Director, Peter Tatchell Foundation, added:
"Gay people are not the cause of Uganda's problems. The government of Uganda should fight poverty and HIV, not gay people. It is two-faced for the UK government to condemn homophobia while hosting President Museveni, whose government has legislated one of the world's most draconian anti-gay laws. The Anti-Homosexuality Act punishes any form of same-sex contact – even mere kissing and caressing – with mandatory life imprisonment. Museveni is a tyrant who presides over a corrupt regime that is guilty of widespread human rights violations, including the arrest of opposition leaders, torture and the suppression of free speech. The UK government should not be drumming up business to sustain his autocratic rule."
(images via the peter tatchell foundation)