Earlier this week, LGBT scouts and advocates hand-delivered more than 125,000 petition signatures to Amazon's company headquarters in Seattle urging the online retailer to suspend its financial support of the Boy Scouts of America until the organization lifts its ban on gay adults.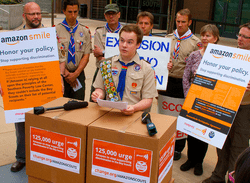 Gay Eagle Scout Pascal Tessier (above, center) launched the Change.org campaign on Tuesday in support of ousted gay Scoutmaster Geoff McGrath (above, right). In April, the BSA removed McGrath from his leadership position in the first enforcement of last year's new rules barring openly gay adults. 
Head over to GLAAD's flicker page to see more photos from the event.
On Friday, Former Secretary of Defense and newly elected Boy Scouts of America president Robert Gates said he would have pushed for openly gay adults to be allowed the organization had he been in charge last year, but opposes any attempts to re-address the policy at the moment.