The Arkansas Supreme Court has issued a stay of Judge Chris Piazza's ruling striking down the state's gay marriage ban.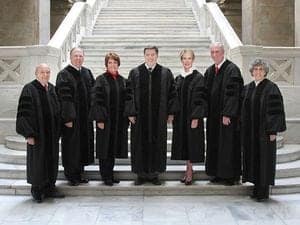 The Arkansas Times reports:
This will again end the issuance of marriage licenses to same-sex couples in Arkansas. It's been an on-and-off process in a handful of counties since Saturday, with most of some 500 licenses issued in Pulaski County. Video above from Fox 16's David Goins shows one of the last ceremonies at the Pulaski County Courthouse.

Piazza's decision will now go through the appeal process. A record of the lower court case must be prepared. A briefing schedule must be set and probably oral arguments. The court takes a two-month recess each summer. Even with an expedited schedule, it's uncertain if the case can be decided this calendar year, when two of the current justices — Cliff Hoofman and Donald Corbin — will be replaced by Rhonda Wood and the winner of a race between Judge Robin Wynne and Tim Cullen.