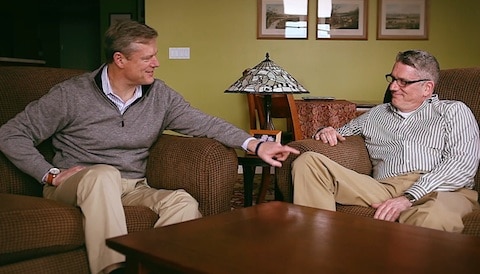 Charlie Baker, a Republican candidate for the Massachusetts governor's office being vacated by retiring Governor Deval Patrick, touts his relationship with his gay brother Alex in a new ad which tells the story of how Alex came out to him, the Boston Globe reports:
That conversation, along with a video of the pair that Charlie Baker's gubernatorial campaign released Thursday, are key components in the Baker campaign's efforts to recalibrate his public image, presenting the GOP candidate in softer — and, his advisers would say, more genuine — tones.
That contrasts with the harder-edged image Charlie Baker projected in his failed 2010 bid for governor, when he sometimes seemed more interested in tough fiscal policies than connecting with voters.
The release of the video of the Baker brothers coincides with Saturday's 10-year anniversary of the first gay weddings in Massachusetts and the nation, a landmark date for social liberals. It helps Charlie Baker distance himself from the socially conservative wing of the Republican Party, appealing to independents who are critical to his success in the November election.
Some unmoved LGBT advocates tell the Globe that Baker was unwilling to take a stronger position on marriage equality in 2004 when it was needed, even though Baker knew his brother was gay at the time.
Watch the ad, AFTER THE JUMP…