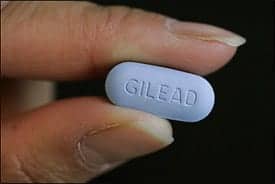 The Centers for Disease Control and Prevention have issued a new set of guidelines for the use of PrEP as an HIV preventative after having determined that PrEP is an effective method of HIV prevention. Said Jonathan Mermin, M.D., M.P.H., director of CDC's National Center for HIV/AIDS, Viral Hepatitis, STD, and TB Prevention,
While a vaccine or cure may one day end the HIV epidemic, PrEP is a powerful tool that has the potential to alter the course of the U.S. HIV epidemic today. These guidelines represent an important step toward fully realizing the promise of PrEP. We should add to this momentum, working to ensure that PrEP is used by the right people, in the right way, in the right circumstances.
The guidelines acknowledge that PrEP is an additional strategy to be used for HIV prevention, and while over 90% effective at reducing HIV transmission on its own, it is most effective when used in combination with condoms and other risk-reduction practices.