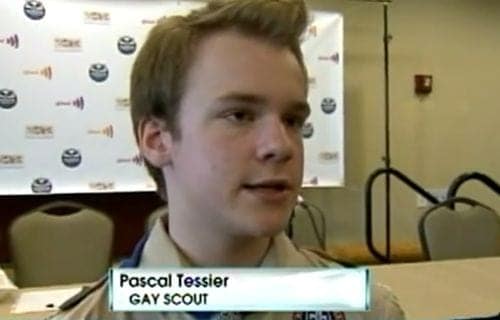 Gay Eagle Scout Pascal Tessier has launched a campaign protesting Amazon's support of the Boy Scouts, the Washington Post reports:
Pascal Tessier, a 17-year-old from Chevy Chase, Md., who made history when he received the Boy Scouts' highest ranking earlier this year, held a news conference Monday in front of Amazon.com's office in Northwest Washington. At the event, he announced his intent to deliver more than 120,000 signatures to the company's Seattle office in an effort to encourage the online retailer to drop the Boy Scouts from the list of organizations that can benefit from its charitable program, AmazonSmile.
Amazon spokesman Ty Togers told the WaPo that it's the Southern Poverty Law Center's responsibility that the charity is on Amazon's list: "We rely on lists published by the Southern Poverty Law Center and the U.S. Office of Foreign Assets Control to determine if certain organizations are ineligible to participate."
Tessier plans to travel to Seattle on Wednesday to petition the company and CEO Jeff Bezos, who also owns the WaPo.