South Africa has ended its ban on blood donation by gay men, Mamba Online reports: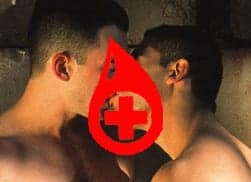 On Tuesday, Vanessa Raju, SANBS Communications Manager, confirmed to Mambaonline that a new non-discriminatory policy had been put in place that favours people in monogamous relationships, regardless of their sexuality.
She said that anyone who has a new sexual partner will not be allowed to donate blood for six months, and that anyone who has multiple partners will not be allowed to donate blood. Both criteria are irrespective of a person's sexual orientation.
"This policy would apply to me, for example, who's just started dating someone new," Raju added. "But people who are in monogamous male same-sex relationships [for more than six months] can now donate."
She explained that the previous policy had been put in place on the basis of international statistics and trends. "It took us a while because we didn't have local facts that warranted changing our policy, although we knew South Africa was different from other countries in terms of risk of HIV," said Raju.
The U.S. still prohibits blood donation by any man who has had sex with another man since 1977. Last August, 84 Democratic lawmakers led by Senator Tammy Baldwin urged HHS Secretary Kathleen Sebelius to end the ban, saying that it "continues to perpetuate inaccurate stereotypes against gay and bisexual men and fosters an atmosphere that promotes discrimination."