Representative Charlie Dent (R-PA) has come out for marriage equality in a statement to the Washington Post: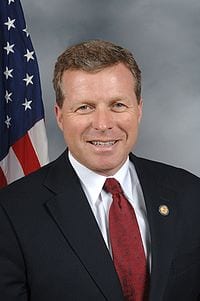 "Life is too short to have the force of government stand in the way of two adults whose pursuit of happiness includes marriage," Dent said in a statement provided first to The Washington Post on Wednesday.
Quoting from the Pennsylvania ruling, "in future generations the label same-sex marriage will be abandoned, to be replaced simply by marriage," Dent said that in "conversations with my family, I have come to realize that they already see the world through that lens."
Dent continued:
"As a Republican, I value equality, personal freedom and a more limited role for government in our lives," Dent said in his statement. "I believe this philosophy should apply to the issue of marriage as well."
Dent's announcement comes following a federal judge's ruling striking down the state's ban on gay marriage.
Dent joins GOP Senators Rob Portman, Mark Kirk, Lisa Murkowski, and Reps. Ileana Ros-Lehtinen, and Richard Hanna in voicing support for marriage equality.
Dent is one of seven Republican co-sponsors of ENDA and was a co-sponsor of the Uniting American Families Act.