Iowa's legislature has rewritten the law which criminalized transmission of HIV, the Des Moines Register reports: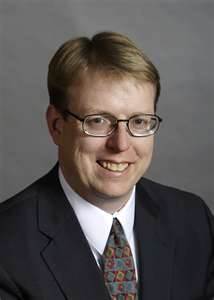 Senate File 2297 unanimously passed the Iowa House after going virtually unmentioned in the Legislature for more than a month.
The bill expands state laws against transmitting HIV to include other contagious and infectious diseases including hepatitis, tuberculosis and menningicocal disease and requires the transmission to be known for criminal charges to be filed. It's intended to revise a "badly outdated and draconian" law regarding the transmission of HIV, Senate Judiciary Committee Chairman Robert Hogg (pictured), D-Cedar Rapids, and others have said.
Transmitting one of the diseases could be one of three classes of crimes depending on whether the diseased person passed the infection to another person intentionally or with reckless disregard or without informing the person of their status.
KWWL adds: "Iowa's current 709c law states a person has committed criminal transmission of HIV if that person knowingly engages in intimate contact without disclosing his or her positive status, whether infection occurs or not."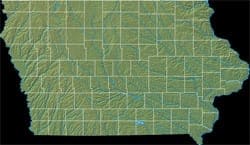 One Iowa applauds:
After a series of negotiations, a historic bill passed through the Iowa House early this morning that will modernize Iowa's discriminatory HIV law. Iowa's current law, 709c, is based on outdated science and beliefs that actually discourages testing and disclosure because of severe penalties associated with simply knowing one's status. The new bill, Senate File 2297 (SF2297), will change the law so that it is no longer HIV specific, and converts sentencing into a tiered system instead of the "one size fits all" approach used in 709c. The bill unanimously passed the Iowa Senate in February, and moved to the House for debate this morning. The bill, which also passed unanimously in House chambers, will now head to Governor Terry Branstad's desk for his signature.
The proposed changes to the law are supported by One Iowa, the state's leading lesbian, gay, bisexual and transgender (LGBT) organization, and by Community HIV/Hepatitis Advocates of Iowa Network (CHAIN), an organization that has spent the last 5 years trying to reform Iowa's HIV law. Iowa currently has one of the harshest laws in the nation that targets people living with HIV and AIDS.
"After 5 long years of fighting to change Iowa's law, those of us living in Iowa with HIV and AIDS can finally breathe a sigh of relief," said Tami Haught, Community Organizer with CHAIN. "We commend the leadership in the Senate and the House for understanding the importance of this bill and the need to modernize Iowa's draconian 709c law. None of this would be possible without the bipartisan support of Senators Matt McCoy, Steve Sodders, Charles Schneider and Rob Hogg; in addition to Representatives Beth Wessel-Kroeschell, Chris Hagenow and Chip Baltimore. The changes in this new bill are a step in the right direction.