BY LISA KEEN / Keen News Service
LESBIAN TO WASHINGTON SUPREME COURT: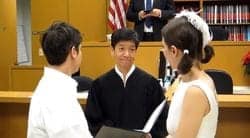 Washington State's Democratic Governor Jay Inslee appointed openly lesbian Judge Mary Yu to the state supreme court May 1. In making the announcement, Inslee noted that Yu, 56, a native of Chicago, becomes the first openly gay, the first Asian-American, and the first Latina on the state supreme court. She will be sworn in next month and must run for election this fall in order to serve out the two years remaining in the six-year term of the retiring justice she is replacing. Yu has been reelected four times for her current seat on the King County Superior Court.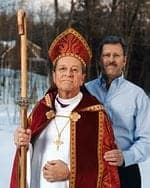 GAY BISHOP ANNOUNCES DIVORCE:
The Episcopal Church's first openly gay bishop, Gene Robinson, announced in an email to his diocese and a column in the DailyBeast.com Sunday that he and his husband, whose civil union automatically became marriage under New Hampshire law in 2010, are divorcing. Robinson offered no details for why the couple is splitting after 25 years together, except to say "gay and lesbian couples are subject to the same complications and hardships that afflict marriages between heterosexual couples." The Episcopal denomination's General Convention affirmed Robinson's election as bishop in 2003.
INDIANA DECISION COMING 'SOON':
A federal judge in Indiana heard oral arguments for two hours May 2 in Baskin v. Bogan, a case brought by Lambda Legal on behalf of three lesbian couples in Evansville. U.S. District Court Chief Judge Richard Young (a Clinton appointee) said he would rule soon on a motion for summary judgment in the case, reports the Indianapolis Star, but both sides intend to appeal if they lose at this level. Such an appeal will be the first marriage ban lawsuit to reach the Seventh Circuit U.S. Court of Appeals, which covers Illinois, Indiana, and Wisconsin. The Baskin case is one of five currently pending in federal court in Indiana.
ON WISCONSIN, ON WISCONSIN: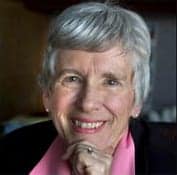 U.S. District Judge Barbara Crabb (a Carter appointee) last week denied Wisconsin Governor Scott Walker's request to dismiss an ACLU-led lawsuit challenging the state's ban on marriage licenses. The lawsuit, Wolf v. Walker, also challenges the state's ban on civil unions and its prohibition against same-sex couples obtaining marriage licenses from other states.
COMMENT ON HOUSING SEARCH:
The Federal Register today announces the U.S. Department of Housing and Urban Development is extending by another 30 days its public comment period on housing discrimination against LGBT people. The notice, originally published in January, says HUD is preparing to do focus group studies and is "interested in the manner in which people identify themselves as lesbian, gay, or transgender when searching for rental housing."
JAPAN'S FIRST LADY JOINS PRIDE EVENT:
First Lady Akie Abe, wife of conservative Japanese Prime Minister Shinzo Abe, participated in the annual Tokyo Rainbow Pride parade April 27, according to Japan Daily Press. At a speech before the UNAIDS-Lancet Commission in London last February, the First Lady said, "I have made up my mind that throughout the rest of my life, I should work as a self- appointed, public amplifier, amplifying the voice of the voiceless, and the cause that in our life time we must work to end AIDS."
RUSSIAN LGBT MARCH ALLOWED:
Russian authorities took no action May 1 to stop a contingent of 300 people marching behind a rainbow banner that said "Love is Stronger than Hate." A report in GayStarNews.com said the march took place in St. Petersburg during a May Day parade in which many groups participated. Laws passed by Russia last year prohibit any public expression of support for LGBT people and authorities stopped similar demonstrations previously.
© copyright 2014 by Keen News Service. All rights reserved.