Mike Huckabee to speak at NOM's 'March for Marriage' on June 19. Who will be listening?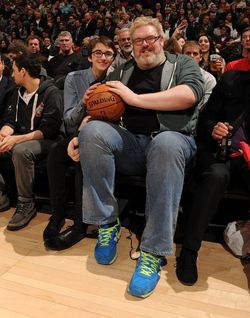 If you buy a ticket to a basketball game, hope that it's not behind Hodor.

John Travolta has a chin muff.

Playwright Del Shores was suspended from posting on Facebook for 30 days for some reason.

Philadelphia mayor to wed gay couples: "Hennessy says they moved up their wedding to be married Friday by Mayor Michael Nutter. She says you don't say no when the mayor calls. Hennessy and Keith are among the 18 couples who got same-sex marriage licenses Tuesday, hours after a judge lifted a state ban."

Elton John issues call to action on AIDS as Normal Heart debuts.

Boy Scouts of America, who appointed former Defense Secretary Robert Gates as interim President last October, have officially confirmed him: "As head of the organization's executive board, Gates will become one of Scouting's most public figures at a pivotal time in its history."
C

onchita Wurst is at Cannes and she's sparkling!

First Star Wars spin-off film planned for December 2016 release.

The last day at Philadelphia's LGBT bookstore Giovanni's Room: "A few days before the store's planned final day of business, says Hermance, he was contacted by a new potential ownership group. They'd seen, he says, the outpouring of past customers' memories – from Philadelphia and beyond – and inquired about taking over the business. A decision on the future of Giovanni's Room could happen in June. But whether or not it will amount to a stay of execution is unclear."

Gay rights now becoming wedge issue for Democrats to wield.

Urban male stripper film Chocolate City in the works, and in negotiations with Tyson Beckford and Michael Jai White.

Glenn Greenwald and Edward Snowden snapped a selfie together.

Charlie Sheen and Rihanna are having a feud. "Apparently he and his fiancée were out for dinner the other night and asked to have their photo taken with her and she blew them off."

Dancing with the Stars pros Maksim and Valentin Chmerkovskiy get very undressed for People magazine.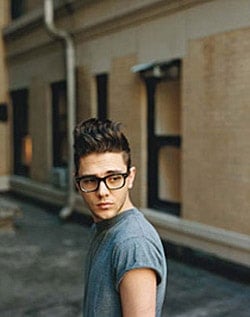 Xavier Dolan in running for Cannes victory.

Vegas and Cincinnati no longer in the running for the 2016 GOP convention.

Please don't actually go to Manhattan's first Dairy Queen: "In summation: There is no justifiable reason to go to a DQ Grill & Chill in New York. Not when the Manhattan location opens next week and not ever anytime after that. Doing so means you're supporting a massive fast-food chain owned by Warren Buffet's company instead of any of the better independent shops around New York. It also misses the entire point of living in New York in the first place."

Culture Club to reunite on December 12.

ACT UP activist Peter Staley talks condoms, Truvada, and HIV prevention: "I'm disgusted by the anti-PrEP rhetoric. And if that rhetoric had won the day, we would be completely lost in this fight. It remains so anti-science—including Larry [Kramer]'s comment, calling Truvada poison—and should be called out as such. I think we're winning now. The anti-PrEP side sounds so hysterical that I really think we're beginning to at least win the argument with the AIDs establishment, the medical community, and government policy—and in our online debates. But I still remain very skeptical that we're going to break through HIV stigma."