NYT calls on New York legislature to pass GENDA.

Gossip Cop: Claims Ellen and Portia will renew vows in Australia untrue.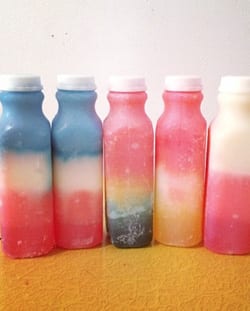 NYC's Instagram-based bootleg booze delivery service Phrosties targeted by Senator Chuck Schumer.

Kanye West's delusional wedding speech: "They feel like it's okay to put you on the tabloid covers to sell your image, to use you in an SNL spoof," he said, per the observer. "We don't negotiate. We're not like that. We're not stupid." A little while later, he added, "The Kardashians are an industry!"

Aiding Turkey's gay inmates.
"

Lonely" Facebook users more likely to overshare.

Painting banned from Northern Ireland exhibition for featuring two men having sex. "The painting, by Ursula Burke, had been set to appear as part of the exhibition: 'The Past is Unpredictable', at the FE McWilliam Gallery from 31 May."

Male model fix: Justin Hopwood.

Gerard Butler is back in his gladiator-ish gear.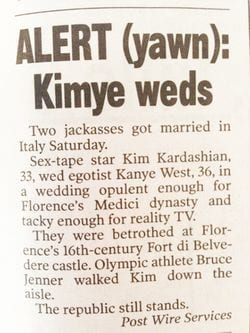 Honest Kimye wedding announcement.

The Washington Post looks at the recent string of judicial victories on gay marriage: "But the federal judges who have supplied an unbroken wave of victories across the country to supporters of same-sex marriage are more diverse than their rulings would suggest: white and black, gay and straight, nominated by Democrats (most of them) and chosen by Republicans (a few of them)."

Madonna remembers interior designer David Collins.

Report calls for law enforcement reform policy dealing with LGBT people and people living with HIV: "Each year in the U.S., thousands of lesbian, gay, bisexual, transgender, Two Spirit, queer, questioning and gender non-conforming (LGBT) people and people living with HIV come in contact with the criminal justice system and fall victim to miscarriages of justice," according to the new report, A Roadmap for Change: Federal Policy Recommendations for Addressing the Criminalization of LGBT People and People Living with HIV.
Demolition crew unearths possible Underground Railroad tunnel in Pennsylvania: "Historians believe the 70-foot-long secret tunnel served as a stop on 19th century network, which helped slaves escape from slave states to free ones."

Glenn Greenwald to publish list of U.S. citizens spied on by the NSA.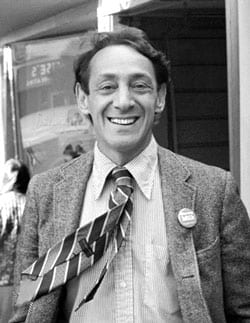 Harvey Milk musical to premiere in New York: "Tony winner Kristin Chenoweth (Wicked) will star alongside composer/lyricist Andrew Lippa (Big Fish) in the New York premiere of Lippa's choral work I Am Harvey Milk on October 6 at Avery Fisher Hall, producers Bruce Cohen, Robb Nanus, Jessica Leventhal, Bruce Robert Harris, and Jack W. Batman have announced. Lippa, the songwriter behind the musicals Big Fish and The Wild Party, will play the title role, with Chenoweth as the soprano soloist."

Beyoncé does braids.

Tegan and Sara will be performing at Toronto World Pride and say they won't have a new album out until 2016: "Our trajectory has been really slow and steady and each record there is a deliberate and strategic move up, shift upwards. We're ready for this kind of success right now. It's been fun for us and it's not overwhelming. I don't think we've had that response that a lot of people who have sort of unexpected success have. We've sort of moved in slow enough and small enough increments that this feels very natural to us right now."