Following five years of writing and editing, Oxford University Press will release a 672-page book entitled, Trans Bodies, Trans Selves in the middle of May.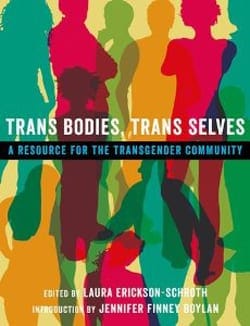 To ensure a wide range of experiences, the book includes contributions from over 200 transgender and/or genderqueer writers from across North America, as well as quotes and findings from an online survey of over 3,000 people.
The book's description states:
"Each chapter takes the reader through an important transgender issue, such as race, religion, employment, medical and surgical transition, mental health topics, relationships, sexuality, parenthood, arts and culture, and many more."
The book's title also pays homage to the 1973 feminist health book Our Bodies, Ourselves which featured women and female health experts discussing women's health issues to a female audience.
Wendy Sanford, a co-founder of the collective that published Our Bodies, Ourselves, wrote in her afterword of Trans Bodies, Trans Selves:
"a community of people who are the best experts on themselves has come together to create a resource of information, mutual support, and political advocacy that will strengthen many. The revolutionary point is that we can name our gender identity for ourselves and rightfully expect respect and recognition."