Next week Cuba will host the sixth International Lesbian, Gay, Bisexual, Trans and Intersex Association for Latin America and the Caribbean (ILGALAC) Regional Conference.
This will be the Communist country's first time to host an international LGBT conference, a realization that isn't sitting well with some who feel the conference shouldn't take place in a country with such a lengthy record of human rights violations.
The Washington Blade reports: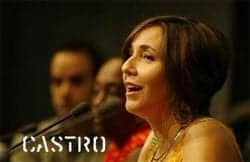 Mariela Castro Espín, daughter of Cuban President Raúl Castro who is the director of Cuba's National Center for Sexual Education (CENESEX,) is president of the local committee that organized the ILGALAC conference.
Mariela Castro did not return the Washington Blade's request for comment. CENESEX's website prominently features information about the ILGALAC conference that includes a preliminary agenda.
"As the host country for the sixth ILGALAC Regional Conference, Cuba is not exempt from the problems of the region's LGBTI communities," states the organization. "The humanistic nature of the Cuban Revolution has focused on the human being in his teleological purposes since its beginning. Although the Cuban LGBTI movement does not have the organization of other international movements, the fight against discrimination based on sexual orientation and gender identity in the country is now evident with more impact and achievements."
Late last year, the Cuban parliament amended the country's labor law to ban anti-gay employment discrimination. Many LGBT advocates also credit Cuba's condom distribution campaign and sexual education cirriculum with producing one of the world's lowest HIV rates.
Still, other argue Cuba's less-than-stellar human rights record cannot be ignored: 
"Hosting a conference on LGBT rights is just another farcical attempt by the Cuban regime to pretend they care about anyone's rights," U.S. Rep. Ileana Ros-Lehtinen (R-Fla.) told the Blade in a statement. "The sad reality is that the Cuban people are harassed, beaten and bullied for having a point of view that differs from the regime's. This desperate move to seem tolerant does not even come close to obscuring the repressive reality on the island.
Ignacio Estrada Cepera, founder of the Cuban League Against AIDS, noted that the Cuban government forcibly quarantined people with HIV/AIDS in state-run sanitaria until 1993. Other LGBT activists in the country point to the forced labor camps to which the government sent more than 25,000 gay men and others deemed unfit for military service during the 1960s.