The AP recently reported that Secretary of Defense Chuck Hagel may transfer convicted Wikileaker  rivate Chelsea Manning from her current incarceration in Fort Leavenworth, Kansas to a civilian prison so that she may receive hormone therapy and other necessary transgender medical care.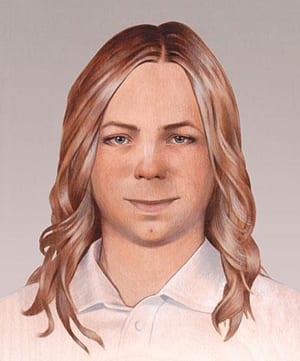 Manning came out as a trans-female after being sentenced to 35 years in a military prison for leaking classified military documents. She currently resides in a male-only U.S. Disciplinary Barracks and it's unclear whether she would be transferred to a male or female civilian prison, if moved at all.
Manning's lawyer David E. Coombs expressed skepticism over the validity of the AP report and its sourcing of "unnamed Pentagon officials 'who were not authorized to speak on the matter.'" Coombs even went so far as to accuse the Pentagon of a transphobia and a "strategic leak" in an attempt to frighten Manning into withdrawing her request for medical care:
It is common knowledge that the federal prison system cannot guarantee the safety and security of Chelsea in the way that the military prison system can. Accordingly, Chelsea would face the "choice" between receiving necessary medical treatment but potentially jeopardizing her personal safety, or not receiving necessary medical treatment but ensuring her personal safety.
Coombs is correct in his concern for Manning's safety. According to Just Detention International, 59 percent of transgender adult inmates get sexually abused, nearly 15 times more often than cisgender inmates.
Even though the army has an agreement with the Bureau of Prisons that results in 15 to 20 military prisoners a year being sent to civilian prisons for different reasons, the army  sends only prisoners who have exhausted their military appeals and been discharged from the service — Manning has done neither. Denying her a baseline of transgender medical care however could be construed as "cruel and unusual punishment" and create a legal headache for the military if they ignore Manning's request for care.
Since the Department of Defense still forbids transgender citizens from openly serving in the military and therefore does not provide transgender medical treatment at all, making an exception in Manning's case could set a precedent for the care of trans servicemembers in military custody.
Zack Ford of Think Progress — who questions the precedence-setting potential of this case — noted that Manning could still access medical care if the military revises its stance on trans-exclusion, if Manning abandons her conviction appeal or if the military grants her a transfer for medical reasons.