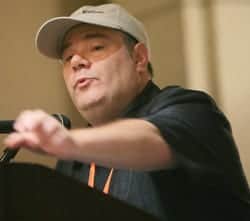 This weekend, gay activist and Philadelphia Gay News publisher Mark Segal performed the coin toss in the nation's first pro-football LGBT-awareness game. It was an arena football game between the Philadelphia Soul and New Orleans VooDoo.
NBC Philadelphia paints the scene:
Free tickets were given to residents of the John C. Anderson LGBT-friendly Senior apartments and the Attic LGBT Youth Organization. Leaders of the LGBT community made several appearances, rainbow colors were painted on the arena, and there were even LGBT-themed touchdown celebrations.
"Every time the Soul made a touchdown, a guy came out with a huge rainbow flag and ran around the arena," Segal said.
For Segal, one of the most memorable moments occurred during and after the singing of the National Anthem.
"The Gay Men's Chorus did the Star Spangled Banner," Segal said. "As the members were leaving, the Philly Soul players lined up to thank each and every one of them. To stand there on the field and watch a professional football team thanking members of the gay community was a little overwhelming."
Segal added that when he first started his gay activism at age 18, being openly gay at a football game could've gotten you killed. The Philly Soul won the game 79 to 60.