RuPaul reignited debate over use of the word "tranny" on Friday in an interview with Marc Maron in which he blasted activists coming at him for using it.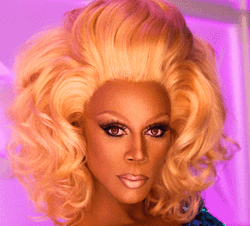 Said Ru in the interview:
…it is not the transsexual community. These are fringe people who are looking for story lines to strengthen their identity as victims. That is what we're dealing with. It's not the trans community, because most people who are trans have been through hell and high water and they know — they've looked behind the curtain at Oz and went, 'Oh, this is all a f**king joke. But, some people haven't… You know, if your idea of happiness has to do with someone else changing what they say, what they do, you are in for a f**king hard-ass road.
Shortly thereafter, Buzzfeed published a statement from a spokesman at LOGO, the network which airs RuPaul's Drag Race, distancing the network from the remarks:
"These comments did not come from Logo. We are committed to supporting the entire LGBT community and will not feature any anti-trans rhetoric on our shows."
RuPaul took to Twitter the following day and made it clear that Drag Race is the network's bread and butter and can't afford to distance itself from him. He also had a few more things to say on the topic:
Forget an outside threat, the "Gay Movement" will eat itself from the inside out…Orwell's book "Animal Farm": The pigs didn't really want a revolution, they just wanted to BE 'Farmer John'…The absurdity! It's as if Jay Z got offended by Kanye using the word "Nigga"…It's not the word itself, but the intention behind the word…
…Trust! @LogoTV hasn't "distanced" itself from me, not while I'm still payin' the f%kin' light bill over there…I've been a "tranny" for 32 years. The word "tranny" has never just meant transsexual. #TransvestiteHerstoryLesson…I'm more "offended/hurt" by the misuse of the word "community"…Pop will eat itself… So will the "Gay Movement"