Ghanaian media are reporting that a gang of Muslim youth lynched a gay man in the neighborhood of Nima, in Accra, Ghana, and are hunting for his partner: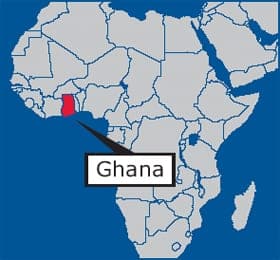 A source told DAILY GUIDE that Salisu was a known homosexual in the area, and all advice by Islamic clerics and family, for him to change his sexual orientation had fallen on deaf ears. However, the real trouble began when another suspected homosexual by name Yaw Nkrumah came to live in the area, and the pair started flaunting their romantic relationship in the Muslim-dominated area.
The source revealed that matters got to a head last week when two men, whose identities DAILY GUIDE could not establish at the time of going to press, confronted Yaw Nkrumah about his 'ignominious' relationship with Salisu, and the former called their bluff, resulting in a scuffle. The two men went to mobilize about 30 men who stormed the house of Yaw Nkrumah, where they stripped him naked and lynched him.
Not satisfied, the group proceeded to the house of Nkrumah's partner, Salisu, but the latter had prior information of their arrival, and escaped just in the nick of time.
DAILY GUIDE gathered that the youth had resolved to hunt down the young man in order to eliminate what they referred to as a "curse".
Police told the Daily Guide that they have difficulty identifying the perpetrators in anti-gay mobas because the "community (Nima) frowns upon snitching".