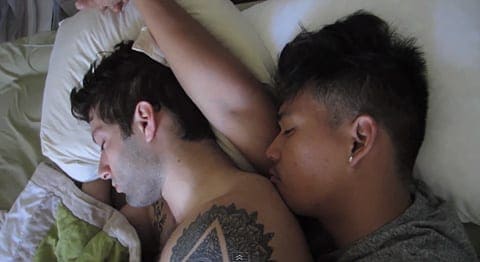 A study published last month in the journal Men and Masculinities revealed that 39 out of 40 white, male, British university undergraduate athletes have shared a bed with another guy; 37 out of 40 of them have also cuddled or spooned with other guys too.
Most participants cuddled with other guys for physical comfort and because they felt safe around their same-sex friends. Another student cited cuddling as a way to help one another recover from hangovers.
While such a small study's findings do not necessarily apply to the world at large, the researchers concluded, "the expansion of esteemed homosocial behaviors for heterosexual men is evidence of an expansion of changing conceptions of masculinity in contemporary culture."
That is, young men might feel more comfortable touching one another because social attutudes towards masculinity are changing as well.
The New Republic also notes:
"Sociologist David Plummer also thought homophobia was responsible for the taboo on same-sex touching: 'Homoeroticism is … excised from same-sex interactions through homophobic stigma, leaving little but physical violence and particular ritualized sporting activities as outlets for male same-sex touch.'"
(top screencap via)
If you enjoyed this post, please consider SHARING it on social media.
Also, please LIKE us on Facebook, and follow us on Twitter, and Instagram.