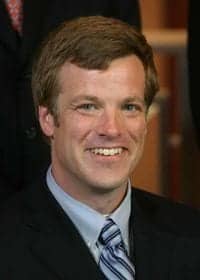 Westboro Baptist Church sure isn't going to be happy about what their city council approved this week…
Amid emotional testimonies and a standing-room-only crowd Tuesday evening, the Topeka City Council narrowly approved both parts of a pro-LGBT "equality package" proposed by Councilman Chad Manspeaker [pictured].
The Topeka Capital-Journal reports:
Manspeaker said the votes send the rest of the world a message "that Topeka is an open, inclusive community and that we welcome all people here and we look forward to grow in that direction."
The council heard at-times emotional testimony — in which both advocates and opponents claimed the moral high ground — before voting 5-3 to establish a city domestic partnership registry, which will be open to both same-sex and opposite-sex couples. […]
The council then voted 5-3 to approve a proposal banning discrimination on the basis of gender identity in the city's employment and hiring practices. The measure also requires the city to make a good faith effort to contract to provide health coverage for any city employees registered with the city as being part of a domestic partnership.
Both measures were decided after the council voted 6-2 to reject a motion seeking to give the public a ballot question vote on them.
Topeka is now the second city in Kansas to have domestic partner registries, behind Lawrence.