Mukasa Jackson and Mukisa Kim, the first two men charged under Uganda's Anti-Homosexuality Law , appeared today in court in Kampala, The Guardian reports: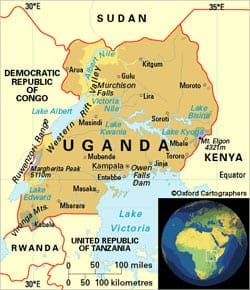 The detained Ugandan couple appeared before a magistrate's court in the capital, Kampala, on Wednesday to apply for bail after prosecutors said they had enough evidence to proceed with the case.
Police arrested the couple in January as they fled an angry mob, according to the Human Rights Awareness and Promotion Forum, a local watchdog group.
Prosecutors have lined up several witnesses to testify against the two, who have been charged with engaging in sex acts "against the order of nature", said their lawyer, Ladislaus Rwakafuuzi.
According to activist Pepe Julian Onziema, only one of the two was granted bail:
Mukasa Jackson bail requirements have been fulfilled and will be granted bail. Sadly, Mukisa Kim's conditions were not met due to delays.

— Petitioner #07 (@Opimva) May 7, 2014