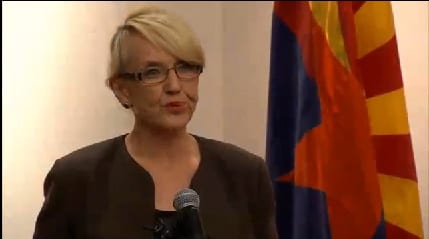 Governor Jan Brewer, who four months ago was at the center of a contentious debate in her state surrounding a bill (SB1062) that would have allowed religion-based discrimination against gays (she vetoed it), told Capitol Media Services on Tuesday that she would consider expanding the state's civil rights laws to cover gay people if a bill were presented to her:
On Tuesday, Brewer said the question of whether Arizona should expand its anti-discrimination laws comes down to looking at the issue from the opposite perspective of SB1062: Is there a real problem with discrimination that drives a need for such a change?
"That's something we don't see a lot of anymore, because of people's changing patterns of discrimination," she said.
The governor suggested that state lawmakers might want to hold hearings on the issue.
"If it needs to be addressed, it needs to be debated in the Legislature," Brewer said.
"Testimony needs to be presented," she continued. "Let the representatives of the people who have been elected by the populace of the state of Arizona determine and get it up to the governor."
And what would she do with it?
"I don't know what would be in that bill or how they would write it," Brewer said. "But I certainly would evaluate it and do what I thought was the right thing to do for the state."