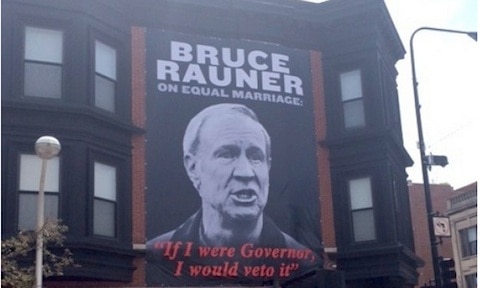 Equality Illinois, along with associated community members and elected officials, yesterday unveiled a giant banner of Republican gubernatorial candidate Bruce Rauner, showcasing last year's statement that he would have vetoed the state's new marriage equality bill had it come to his desk as governor.
The two-story banner titled Bruce Rauner On Equal Marriage, uses the quote: "If I were Governor, I would veto it."
The banner is located at one of the busiest locations on the Chicago Pride Parade, which is expected to see large crowds this year thanks in part to the marriage equality law going into effect on June 1.
In a statement, Art Johnson, co-founder of Equality Illinois and owner of the Sidetrack bar, said that Rauner "has made it clear he opposes the freedom to marry and has chosen the side of bigotry and intolerance."
Despite claiming to "have many gay friends" that he hopes "have great lives together" should they choose to get married, Rauner said that although he does not have a "social issues agenda", he would consider repealing the state's marriage equality law if that's what voters want.
Anti-Rauner banner hanging on route of Chicago Pride Parade is a reminder of his threat to veto #marriageequality pic.twitter.com/Z29b5Kn614

— Equality Illinois (@EqualityILL) June 26, 2014