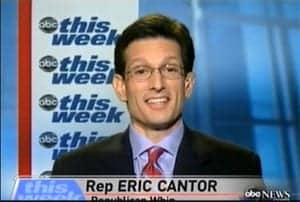 House Majoriy Leader Eric Cantor has lost the Republican primary for his House seat, the AP reports:
Economics professor Dave Brat won a stunning upset victory against Cantor on Tuesday in the 7th District Republican primary contest, which is in the Richmond area. Cantor is the second-most powerful member of the U.S. House and was seen by some as a possible successor to the House speaker.
Wow.
The WaPo adds:
Brat's victory gives the GOP a volatile outlook for the rest of the campaign season, with the party establishment struggling late Tuesday to grapple with the news and tea party conservatives relishing a surprising win.
"This is an earthquake," said former Minnesota congressman Vin Weber, a friend of Cantor's. "No one thought he'd lose." But Brat, tapping into conservative anger over Cantor's role in supporting efforts to reform federal immigration laws, found a way to combat Cantor's significant financial edge.
That vomiting sound you hear is wise R's who just realized what the '16 nominee will have to say & do to get thru primary. #Cantor

— Jim Messina (@Messina2012) June 11, 2014