New York Governor Andrew Cuomo's office announced today that no longer would transgender people have to prove reassignment surgery to make a gender change on their birth certificate, Reuters reports: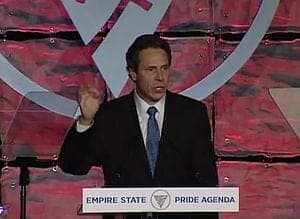 Under the policy, a transgender person will still need to provide a notarized affidavit from the doctor treating them for what the American Psychiatric Association calls gender dysphoria, previously known as gender identity disorder, in order to get their birth certificate modified.
But under the policy the doctor will no longer need to affirm that their patient has had surgery, only that they are receiving "appropriate treatment."
The Empire State Pride Agenda applauded the move:
"This is tremendous news for New York and especially for the transgender community, and a great step forward to ensuring many transgender New Yorkers no longer need to undergo a process they not wish to in order to receive an identity document that truly reflects who they are," said Empire State Pride Agenda Executive Director Nathan M. Schaefer. "This is an issue we've been advocating for the past several years and are grateful for Governor Cuomo's leadership and the Department of Health for moving us closer to equality and justice for all New Yorkers."
"Under Governor Cuomo's leadership, New York is reclaiming its rightful place as the progressive capital of the nation and made significant progress to advance the rights of all New Yorkers, including members of the transgender community. Much work remains and this administration is committed to promoting laws and policies that are fair and just for all," said Alphonso David, Deputy Secretary for Civil Rights for New York State.