BY DAVID MIXNER
At a dinner party the other night, a guest spoke up and said, "The Proposition 8 case has almost become its own industry. They have the plays, the movies, the documentaries, the books and soon to come will be the coffee cups and coasters." In many ways, he was just reflecting on the weariness that has set in with the 'instant history' that has taken place in the framing of the Proposition 8 battle.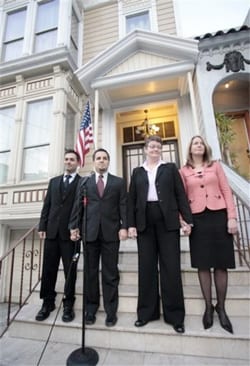 Personally, I am fascinated with all aspects of the case but also wish the gallant and more important DOMA victory in the Supreme Court would also have its 'insider's account'. Edie Windsor just might be the most beloved person in the LGBT community and her grace is simply contagious.
"Instant history' is not necessarily a bad thing.
People want to get their version of events out as soon as possible. In today's social media world, these products of Proposition 8 are no more than a modern day version of the old 'journals' kept by other historical figures. Presidents, Secretary of States and power brokers throughout our more than two centuries of history have kept records to ensure that history is seen through their eyes.
As I prepare for my own one man show as a benefit for the Point Foundation in October, I struggle with my reality and the truth. I have self-imposed an end to the show at the year 2000 so at least a decade exists between my recollections and events. Even then, I am somewhat uncomfortable with putting out my perception of the 'truth'. However, I am driven by the large number of our 'history tellers' who died of HIV/AIDS and the huge number of lost stories that leave a gaping hole in American LGBT history.
With this in mind, I can't urge you enough to go see very powerful documentary The Case Against 8 which opens this weekend in New York and Los Angeles. The HBO film is worth seeing just to finally see four amazing heroes of our movement whose names are not as well known as the activists and lawyers surrounding the case.
Kris Perry, Sandy Stier, Paul Katami and Jeff Zarrillo are the plaintiffs in the case and this film allows us to see their journey for the first time in a powerful and moving way.
Not to diminish the others involved in the case, but these four brave individuals for over five years allowed every aspect of their personal lives to be examined, endured hate calls, put their lives at risk and exposed their families to unbearable pressure in order that each LGBT American could live a freer life.
The Case Against 8 highlights their journey and it is extraordinary to witness their determination to represent our community well while under intense pressure. Yes, there are weaknesses in the film and some characters are slighted at the expense of others.
However, putting all the small stuff aside, this film's heart belongs to the plaintiffs. All I can say is a big old 'thank you' to them for the courage and love that is magnificently on display throughout this worthwhile documentary.