Senator Orrin Hatch (R-Utah) is calling for religious exemptions to be included in the executive order President Obama is expected to issue that will protect LGBT employees of federal contractors from discrimination.
The Washington Blade reports: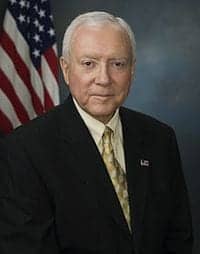 "While the specifics of this executive order are not yet clear, I believe it must include the same religious protections that are included in the bipartisan Employment Non-Discrimination Act that passed the Senate," Hatch said. "ENDA strikes a good balance to ensure that discrimination based on sexual orientation will not be tolerated, but also that one of our nation's fundamental freedoms — religious freedom — is still upheld. The same must be said for any Obama Administration initiative on this issue." […]
A White House official responded to Hatch's request for similar language in the executive order by saying it doesn't any have details to share about the specifics of the directive.
The Washington Blade notes that in the current version of ENDA before Congress, religious institutions, like churches or religious hospitals and schools, could continue to discriminate against LGBT workers in non-ministerial positions even if the bill were to become law.
Last September, Hatch was among 10 Senate Republicans who voted for ENDA.