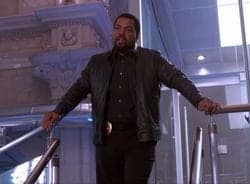 In the last film, Jenko (Tatum, a deadpan doofus) and Schmidt (Hill, a kinda-smart dope), two undercover cops working out of a converted church, took down a high school drug ring. This time Captain Dickson (Ice Cube, hilarious, right) tells them they are going off to college. The film, mocking the notion of sequels, makes it painfully obvious that even though the locale has changed, everything else will be exactly the same as the last film "but with twice the budget." Holding true to its premise, Jenko and Schmidt must find the distributor of a new designer drug called WhyPhy (Work hard, yes, Party hard, yes–pronounced wi-fi) which killed a student at the humorously named Metropolitan City State University. Hilarity, and a surprising amount of humanity, ensues.
At college, Jenko immediately falls in with the football crowd, befriending Zook (Wyatt Russell) and Rooster (Jimmy Tatro), while Schmidt somewhat unexpectedly finds camaraderie, and even more surprising, sex, with the dead student's ex-neighbor, Maya (Amber Stevens). Jenko and Zook quickly strike up a bromance which begins to drive a wedge between the emotionally unstable Schmidt and his partner. Beyond this frail frame of a narrative, there is little driving the story forward except for Tatum and Hill's natural chemistry and a script that is shockingly preoccupied with making everyone around them think they are in a romantic relationship.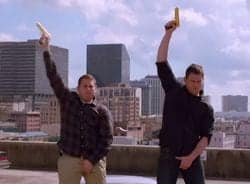 Scene after scene, we find the two engaged in dialogue specifically aimed at creating this impression: the dissolution of their partnership sounds like a couple deciding to open themselves up to other sexual experiences, an exchange with the school counselor inadvertently turns into  a couples therapy appointment. And all of it is delivered without the slightest bit of irony. One of the more memorable moments of the film occurs when Schmidt and Jenko are called "faggots" after being found in a faux-sexual position and the enraged Jenko unleashes a tirade about how inappropriate the word is: "You can call us gay, sure. Homosexual maybe. And queer, but only if you're good friends with a person!" They never deny their homosexuality to anyone who acknowledges it, making for a shockingly gay-friendly film that still gets comic mileage out of homoerotic situations.
Other actors fare just as well. Ice Cube has a highly amusing revelation about Schmidt's sexual history, Maya's roommate, Mercedes (Jillian Bell), delivers dry one-liners with extreme rapidity, and a pair of identical twins across the hall from Schmidt and Jenko have hilarious mental synchronicity. It's a great ensemble, but ultimately the film is Tatum and Hill's, proving once again that they are an absurdly fun onscreen team. This sequel may have little to no ambition in expanding its former premise, but in recognizing as much, and heightening the homoerotic fun, it's a win.