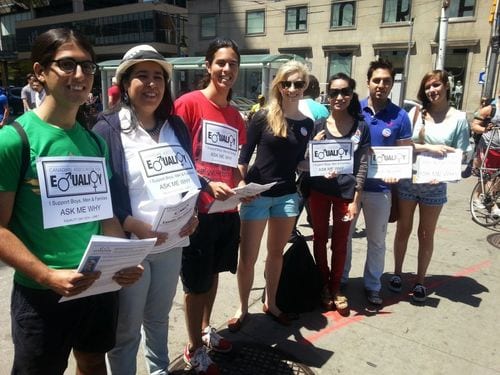 A men's rights group, The Canadian Association for Equality, had its permit to march in today's Toronto World Pride parade revoked just days ago—after the stated cutoff date for such decisions. 
From The Toronto Star:
Pride executive director Kevin Beaulieu was vague on Friday about the reasons for CAFE's exclusion.

"There has been some concern expressed about the activities and purpose of CAFE and whether they actually match the intent they express," he said. Asked to be more specific, Beaulieu replied, "I'm really not going to go into that."

CAFE has faced criticism for its association with anti-feminist websites like A Voice for Men and for apparently misrepresenting itself to the Canada Revenue Agency in its successful charity-status application last year. In that case, CAFE listed women's groups as potential members of panel discussions who denied having been approached by the organization.

Still, female members of CAFE deny that their group is sexist. "I'm a woman who's involved in this, and we've been accused of being misogynist, we've been accused of being anti-feminist, and I can tell you I would never be involved with anything like that," said Eleanor Levine, a Toronto social worker and member of the CAFE advisory board.

Levine also complained that Pride had broken its own rules by barring CAFE so close to the parade. Pride's Dispute Resolution Process requires that complaints against a group be submitted by June 4, and that if a group is excluded from the parade, the decision must be made by June 21. Neither deadline was met in this case.