Lauren Scott, a transgender woman and veteran of the Persian Gulf War, has won the Republican primary election for Nevada Assembly District 30 and will represent her party on the ballot this November.
The Washington Blade reports: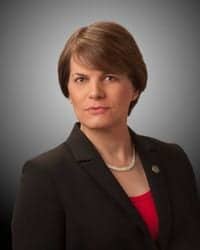 The district, which includes parts of Reno, is heavily Democratic, but Scott pledged to fight to win the general election.
"I have always been a moderate and I am willing to work with Democrats and Republicans to find solutions to the problems facing Nevada today," Scott said in a statement.
Although her opponent was endorsed by the Nevada Republican Assembly, Scott was endorsed by Nevada Gov. Brian Sandoval. She hasn't been endorsed by the Gay & Lesbian Victory Fund. In the general election, Scott will face off against Democratic incumbent State Assembly member Michael Sprinkle.
If elected, Scott could become the first openly transgender person to serve in a state legislature. Who knew such a distinction would ever go to a Republican?