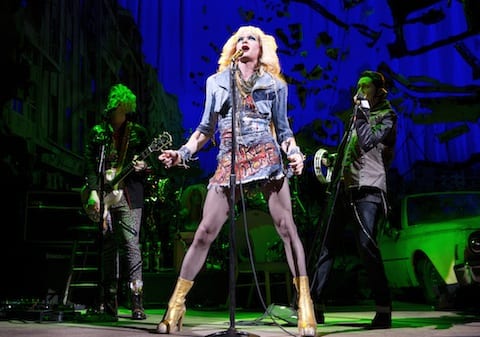 BY NAVEEN KUMAR
The 2014 Tony Awards will be handed out Sunday at Radio City Music Hall, in a televised ceremony hosted by Broadway's favorite brawny man Hugh Jackman. With the six-week long race nearing its finish line, a number of this year's nominees have gained clear momentum while other categories are still anyone's game, including some of the night's top honors.
Former Tony host and A-list gay Neil Patrick Harris is very likely to win for his balls-to-the-wall performance as the titular gender-indeterminate rock goddess in Hedwig and the Angry Inch. The show also has a solid chance of taking home Best Revival of a Musical, and director Michael Mayer (American Idiot, Spring Awakening) is a strong competitor in the directing race for his work transforming the downtown cult hit into a big-ticket Broadway smash.
The Best Musical race is still open, though, and Mayer faces stiff competition from director Darko Tresnjak of A Gentleman's Guide to Love and Murder, the season's most nominated show and a strong competitor for the evening's top prize. Though The Bridges of Madison County was edged out of a Best Musical nom and recently closed due to poor sales, Jason Robert Brown is a favorite to win for his soaring, operatic score.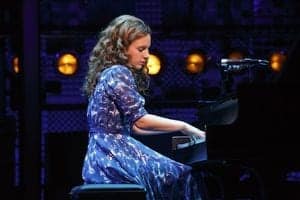 Beautiful: The Carole King Musical is also a strong competitor for Best Musical, with the baby-boomer favorite likely to score big in other categories, including a top acting prize for star Jessie Mueller in the title role and a possible win for book writer Douglas McGrath. Cotton-Club style revue After Midnight has also been an audience favorite since opening early in the season, and helmer Warren Carlyle is a likely win for his fiery-footed choreography.
Featured actor races are tight across the board, but the awards may go toward musicals otherwise under recognized—like James Monroe Iglehart for Aladdin or Nick Cordero for Bullets Over Broadway and Linda Emond for Cabaret.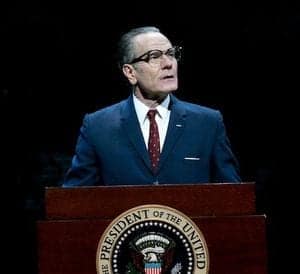 The race for leading man in a play seems similarly in the bag for another celebrated TV star, Bryan Cranston for his robust portrayal of LBJ in All the Way. Robert Schenkkan's presidential drama is also a likely win for Best Play, facing down competition from veteran playwrights Terrence McNally (Mothers and Sons), James Lapine (Act One), Harvey Fierstein (Casa Valentina), and John Patrick Shanley (Outside Mullingar).
Audra McDonald has been showered with acclaim for her sensitive performance as Billie Holiday in Lady Day at Emerson's Bar and Grill (which landed her in the play category despite being mostly sung), and is a longtime favorite of Tony voters (this would mark her sixth, with one in each of the four acting categories). But her competitors for Best Actress have also been critic and audience favorites, including LaTanya Richardson Jackson for her galvanizing performance in A Raisin in the Sun, and previous winners Cherry Jones (The Glass Menagerie) and Tyne Daly (Mothers and Sons).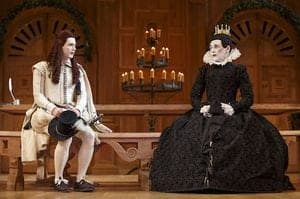 Featured actors from this season's crop of new and revived plays are in tight competition, including two favorites from A Raisin in the Sun, Anika Noni Rose and Sophie Okonedo. As for supporting men, it's a case of 'may the best woman win' among frock-wearing front-runners Mark Rylance (nominated for his turn as Lady Olivia in the Globe's all-male production of Twelfth Night) and Reed Birney (playing a straight transvestite in Casa Valentina).  
Best Revival of a Play is also one of the season's tightest races, between refreshing reboots of American classics (The Glass Menagerie, A Raisin in the Sun) and British imports (Twelfth Night, The Cripple of Inishmaan). For a season unusually packed with Shakespeare on and off Broadway, the Bard may take one home for the 10th anniversary production of director Tim Carroll's benchmark Globe Theatre production.
Recent theatre features…
David Byrne and Fatboy Slim Musical 'Here Lies Love' Returns Off Broadway: REVIEW
Hollywood Snubs and Men in Tights: Rounding Up the 2014 Tony Award Nominations
Alan Cumming and Michelle Williams Open On Broadway in 'Cabaret:' REVIEW
Daniel Radcliffe Opens on Broadway in 'The Cripple of Inishmaan:' REVIEW
James Franco and Chris O'Dowd Open On Broadway In 'Of Mice And Men:' REVIEW

Follow Naveen Kumar on Twitter: @Mr_NaveenKumar (photos:joan marcus, evgenia eliseeva)