In a new interview with People magazine, model Andrej Pejić revealed that she is transgender. In the piece, Pejić says she began the transition process earlier this year and that she'll now go by the name Andreja.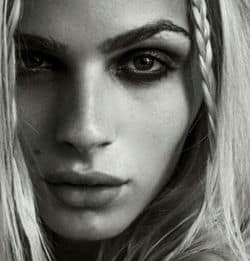 She tells People:
"I want to share my story with the world because I think I have a social responsibility," Pejic, 22, tells PEOPLE exclusively. "I hope that by being open about this, it becomes less of an issue…I always dreamt of being a girl," explains the Serbian-born model. "One of my earliest memories is spinning around in my mom's skirt trying to look like a ballerina."
Pejić continues:
…"about a year and a half ago, I reevaluated things," says Pejic. "I was proud of my gender nonconforming career. But my biggest dream was to be comfortable in my own body. I have to be true to myself and the career is just going to have to fit around that."
In another interview with Style.com, she talks about her childhood.
…I went on sort of a boyhood campaign from age 9 to about 13. I tried to be a "normal" boy because I felt like my options were either to be a gay boy or a straight boy. I didn't feel that I was gay, so I didn't know that there were any other options until the age of 13, when I went online and discovered that there's a whole community of trans people out there. There are doctors, there's medical care, there's research, and that was an eye-opener for me. From that day on, I knew what I had to do.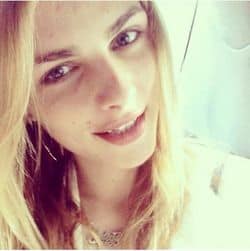 Pejić also posted a message (and the selfie to the right) to her fans on Facebook.
I think we all evolve as we get older and that's normal but I like to think that my recent transition hasn't made me into a different individual. Same person, no difference at all just a different sex  I hope you can all understand that. I would also like to to reach out to all young gender non-conforming youth out there: I know it's hard, I've been there, but remember it's your right to be accepted as what you identify with—you deserve the same respect as any other human being on this planet. As a transgender woman I hope to show that after transition (a life-saving process) one can be happy and successful in their new chapter without having to alienate their past. Most importantly differences should not equal divisions, let's all stand together in union.
She tells GLAAD:
To all trans youth out there, I would like to say respect yourself and be proud of who you are. All human beings deserve equal treatment no matter their gender identity or sexuality. To be perceived as what you say you are is a basic human right.
Pejić has already received words of support from many members of the LGBT community including Laverne Cox.