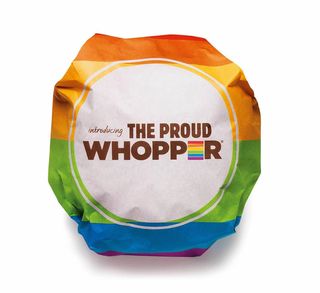 The American Family Association has issued an action alert warning concerned citizens of the potential dangers posed by Burger King's recent "Proud Whopper" promotion. The burger, which comes wrapped in rainbow packaging, was sold at a select number of Burger King locations to commemorate gay pride month. Unless there is  substantial pushback from the public, the AFA warns, the fast food chain might expand the marketing in the future.
"Unless Burger Kings sees a backlash for promoting cross-dressing and homosexual conduct as normal behavior, it will expand the promotion to other cities and additional stores next year." The organization intoned grimly on its website.
Ever the helpful bunch, the AFA has set up a campaigning portal that will generate perturbed e-mails designed to let Burger King know just how terrifying you think rainbow wrappers are.
"I am offended by Burger King's stunt in offering a so-called "Proud Whopper" in San Francisco. What were you thinking?" The e-mail template reads. "I hope you will learn from this publicity blunder and realize that while most stores did not participate in the corporate-approved program, the damage has been done and affects the image of all Burger King outlets."
Burger King boasted 32.7% profit increase earlier this after after a round of cost saving cuts and menu restructuring.
Watch Burger King's promotional Proud Whopper ad here AFTER THE JUMP…