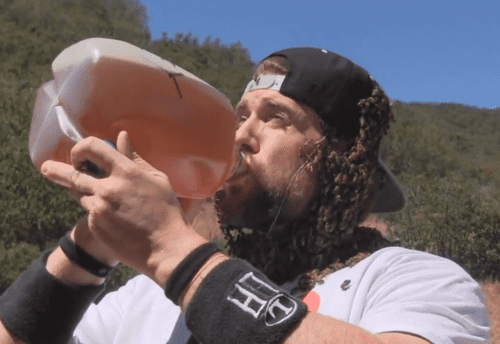 The L.A. Beast, a competitive eater known to drink Tabasco by the liter, took on a new challenge recently: downing a gallon of honey (which he hates) while covered in bees (which he is terrified of). Needless to say, it was going to be a difficult one to complete.
The NY Daily News reports:
"I feel I'm gonna need the spirit of the Ultimate Warrior today, because I hate honey and I'm deathly afraid of bees," he says as he prepares for what he says is the challenge of his life.
The nearly 12-minute video sees the Beast downing most of the gloop.
But, sadly, he has to eventually quit after vomiting one too many times.
The Beast's aim was not solely to see if he could guzzle the bee nectar, though. In the YouTube video description he gives a shout-out to Michelle Donaldson, a friend and cancer patient who helped find the beekeeper and make this challenge happen:
Any love and support to help her ease some of the financial strain of medical bills would go a long way. Please check out her page below. Thank you!
You can find Michelle's GoFundMe page here.
And check out the L.A. Beast's valiant attempt, AFTER THE JUMP…
(Warning: Not for those with a sensitive stomach.)