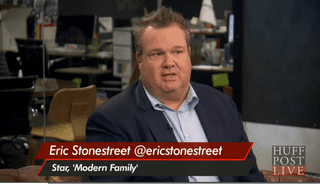 Eric Stonestreet, famous for his portrayal of Modern Family's resident farm-raised house husband Cameron Tucker, spoke to the Huffington Post about his character's sexuality, a topic that the show has made a point of avoiding addressing directly.
"Jesse [Tyler Ferguson] and I call Cam a 'bossy, fussy bottom,'" the actor explained. "Now, what I get is a lot of guys who come up and want to challenge my sexuality."
Early in Modern Family's run, ABC came under fire for its seeming refusal to acknowledge Cam and Mitchell's (Jesse Tyler Ferguson) relationship aside from their referring to each other as "boyfriends." A Facebook group titled "Let Cam & Mitchell Kiss on Modern Family" eventually brought enough attention to the omission of physical displays of affection that the network dedicated an entire episode to it.
Stonestreet also said that he is struck by the number of conservative politicians who appreciate his character:
Stonestreet said he was amazed at some of the conservative politicians who have approached him wanting to take photos. When Santorum did just that at a recent White House Correspondents Dinner, Stonestreet flat out refused.
"It was at a time when he was publicly saying, 'Gay marriage, gay marriage' and I'm like, 'You know, I can't do it,'" he said. "It was with him and his kids or something like that, and I said, 'I'd be happy to take a picture with the kids,' but I can't just be in a picture with [Santorum.]"
The on-camera couple were finally married in the show's most recent season, but their sex life has remained something of an obscure topic rarely touched upon in Modern Family's five-season run.
Watch video of Stonestreet's interview AFTER THE JUMP…