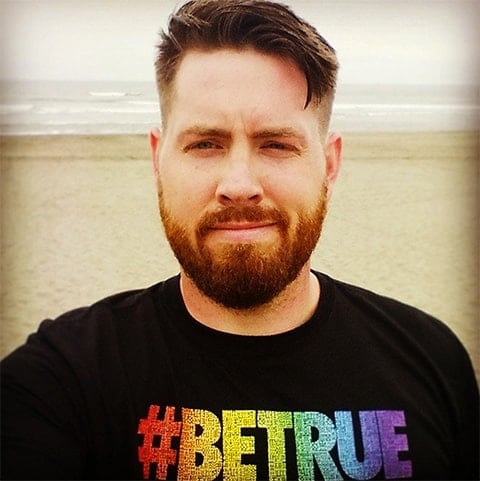 Brad Thorson, a former college football player who played as an offensive lineman for both Wisconsin and Kansas and was briefly with the Arizona Cardinals, came out as gay in a blog post published on July 4th:
I've been told many times that the process of coming out is cathartic. Yet since coming to terms with my sexuality, I found it arduous and unnecessary. At least that's what I kept telling myself. So today, I'm putting it in writing and not looking back.
I'm gay.
I'm also an athlete. For years, I struggled to unite these two identities in my own mind. Not until after my professional athletic career came to an end did I allow myself to understand my sexuality. Now, three years later, I'm finally ready to share that with people.
Thorson, whose time in the NFL was shortened by a broken foot, decided to leave football behind him after a brief stint with the Canadian Football League's Regina Roughriders.
In his post, Thorson also commented on the influence other out gay athletes have had on him and how he hopes to be able to offer solace and inspiration to other gay athletes who have yet to come out:
If not for the strength of athletes like Jason Collins, Michael Sam, and Brian Sims, I would likely still be struggling with my own cognitive dissonance. Each of their stories reinforced the truth that there is nothing wrong with being a competitive athlete and gay. Just as their stories helped me come to understand and accept myself, I've gotten to a point in my life where I hope to help someone else to understand his or her identity as a gay athlete. […]
This year has been quite a journey for me. I consider myself incredibly lucky for the opportunities I've had, my amazing friends and family, and to live at a time of great progress in gay rights. I wish that I could've shared this part of my life with more people individually but I'm also ready to move forward. My hope in coming out is that at least one other gay athlete will understand he or she isn't alone and that it really does get better.
Thorson's post also chronicles how joining gay rugby team the Fog and meeting the mother of gay 9/11 hero Mark Bingham, who was himself a member of that team, helped him in his journey to reconciling being gay with being an athlete. 
Thorson told OutSports that he had wanted to write that post "many times before but just didn't have the right words to say."
Thorson later took to Instagram to share his father's response to him coming out. In an email, Thorson's father wrote:  
Each of you have brought so many special blessing to me and taught me how hard and yet joyful it is to be a father. It would be a lie to say I wasn't shocked when you came out to Mom and I but, I've been pleasantly surprised at my level of tolerance and understanding given my years of intolerance.  It is quite amazing to me how blindly bigoted I have allowed myself to be and for what?  I think we fear what we don't fully understand, like the monster under the bed, there's really nothing there to be afraid of! I have always and will always be the biggest advocate (except for your mom) for my kids.  You all mean the world to us and today I celebrate the joy of having all of you in my life. 
Read Thorson's declaration of independence, HERE.