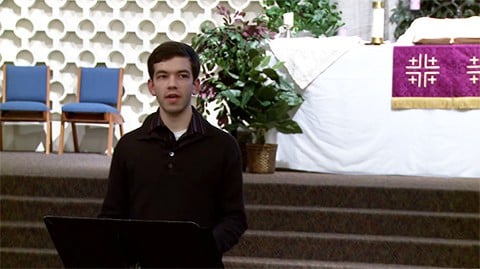 In a lengthy profile published yesterday on Politico, reporter Jim Hinch looks at how evangelical Christians are changing their minds on gay marriage, supported by rather than in spite of the Bible: 
Over the past decade, evangelical support for gay marriage has more than doubled, according to polling by the nonpartisan Public Religion Research Institute. About a quarter of evangelicals now support same-sex unions, the institute has found, with an equal number occupying what researchers at Baylor University last year called the "messy middle" of those who oppose gay marriage on moral grounds but no longer support efforts to outlaw it. The shift is especially visible among young evangelicals under age 35, a near majority of whom now support same-sex marriage. And gay student organizations have recently formed at Christian colleges across the country, including flagship evangelical campuses such as Wheaton College in Illinois and Baylor in Texas. […]
For a branch of Christianity devoted to scriptural interpretation, a debate about gay marriage was bound to contend with what the Bible says on the matter. Sure enough, as the politics of same-sex marriage have changed, a quiet movement to change evangelicals' very interpretation of the Bible has gained momentum. 
One of the faces of this sea-change is 24 year old Matthew Vines, whose hour-long YouTube sermon on the intersection of Christianity and homosexuality posted in 2012 has since racked up more than 730,000 hits and spurred the creation of his Reformation Project which holds conferences to bring pro-gay rights evangelicals together who want to prove that the Bible does not necessitate a condemnation of gay relationships but actually supports them. 
The shift in attitudes towards gay marriage among evangelicals has also had major political ramifications: 
Just a decade ago, conservative Christians powered an electoral surge that outlawed gay unions in 11 states and, in the view of many political analysts, helped to ensure President George W. Bush's 2004 reelection. Barely one in 10 evangelicals supported gay marriage, and church leaders like Warren urged their followers to vote against same-sex unions.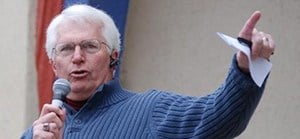 Today, conservative Christian groups and Republican leaders have shied away from campaigning on gay marriage and have instead focused on topics such as "robust religious exemptions." Anti-gay organizations, such as the National Organization for Marriage (NOM), have also felt the financial sting of a waning interest in battling gay marriage from the Evangelical community. 
Still, despite the dramatic shift, the Evangelical community is still home to some of the country's most anti-gay firebrands like Tony Perkins and Bryan Fischer. Said Fischer of the movement towards more pro-gay attitudes among Evangelicals,
"What we are seeing is the impact of this relentless brainwashing by the mainstream media, and it affects people that aren't thinking clearly or aren't grounded in a biblical worldview…There are some evangelical leaders who are sounding a very defeatist tone—the battle is over, and we lost and we have to get used to it. That kind of defeatism just has no place in the evangelical community."
In case you missed it, watch Matthew Vines's sermon on the Bible and homosexuality, AFTER THE JUMP…