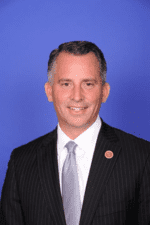 Representative David Jolly (R-FL) has come out for marriage equality, saying that while he personally believes in "traditional" marriage, he also supports last week's court ruling overturning Florida's ban on same-sex marriage.  
The Washington Post reports:
"As a matter of my Christian faith, I believe in traditional marriage," said Jolly in a statement to The Post. "But as a matter of Constitutional principle I believe in a form of limited government that protects personal liberty. To me, that means that the sanctity of one's marriage should be defined by their faith and by their church, not by their state. Accordingly, I believe it is fully appropriate for a state to recognize both traditional marriage as well as same-sex marriage, and therefore I support the recent decision by a Monroe County Circuit Judge."
Jolly joins GOP Senators Rob Portman, Mark Kirk, Lisa Murkowski, Susan Collins and Reps. Ileana Ros-Lehtinen, Richard Hanna, and Charlie Dent in voicing support for marriage equality.