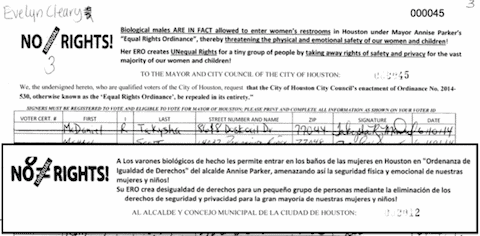 After mayor Annise Parker signed Houston's HERO bill into law, it was just a matter of moments before anti-gay bigots started raising a stink and even got a petition started to reverse the measure. Some Houston activists decided to post the signatures that were applied to the petition online in an easy-to-browse database. Given that petition signatures are part of the public record, the activists are engaging in completely legal activity despite the fact that haters are not going to be pleased with the disclosure.
In an interview with Buzzfeed, Houston GLBT Political Caucus treasurer Noel Freeman – who was the one who made the request for the public records – had this to say about the actions being public shaming:
If somebody feels that they're being publicly shamed by these petitions being online, I think that says more about them than it does about the people who are putting the petitions online. If you're embarrassed that your political views are on public display, then maybe you should rethink your political views.