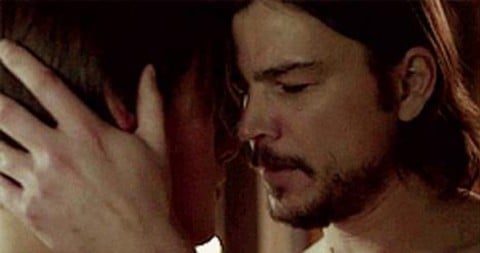 One of the biggest surprises during season one of Showtime's Victorian horror-drama Penny Dreaful was the make-out scene between Josh Hartnett's wolfy sharpshooter Ethan Chandler and Reeve Carney's bisexual decadent Dorian Gray.
When asked about the scene during a San Diego Comic Con afterparty, Carney said:
"I knew that something like that would likely happen at some point and I figure, you know, you could certainly do a lot worse than Josh Harnett. It's probably all downhill for me in terms of any man-on-man action I might have on the show. They'll have to keep their game high!"
During the same interview, Carney said that Dorian will have a new love interest in season two though Carney claims not to know whether it will be male or female. In Oscar Wilde's The Picture of Dorian Gray, Dorian's decline begins after he cruelly rejects the love of an actress named Sibyl Vane, but the Penny Dreadful prides itself in its departures from classic texts, so Dorian could easily move in another direction.
Meanwhile, at the San Diego Comic Con's Penny Dreadful panel, the show's openly gay creator John Logan discussed how his gay identity helped inspire the show where all the heroes are also potential villains:
Logan also pulled a lot from his own life to develop the original characters and then bring them all together. For example, almost all of what we've seen is rooted in Logan's experience being a gay man before it was widely accepted. Logan noted, "I realized the very thing that made me different, also made me who I am," and from that, came what the show's all about. "The monster in all of us, the thing we must embrace, the thing that frightens us, the thing that makes us who we are."
The sci-fi site io9 also has some small reveals for Penny Dreadful fans looking forward to the second season including this one: we'll finally get to see what the picture of Dorian Gray actually looks like.
Watch Carney's interview AFTER THE JUMP…