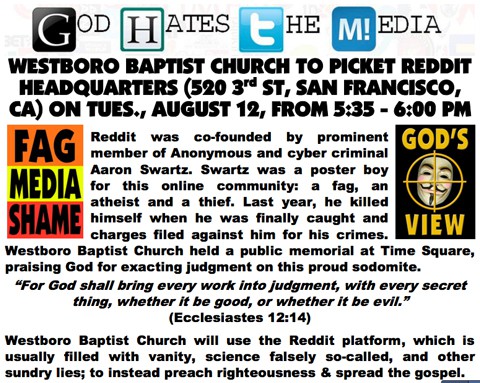 The ever-hateful "God Hates Fags" brood of the Westboro Baptist Church has planned to protest the San Francisco headquarters of the online forum Reddit the evening of Tuesday, August 12 citing Reddit's "fag, atheist, thief" co-founder Aaron Swartz.
The group's protest announcement reads:
Reddit was co-founded by prominent member of Anonymous and cyber criminal Aaron Swartz. Swartz was a poster boy for this online community: a fag, an atheist and a thief. Last year, he killed himself when he was finally caught and charges filed against him for his crimes. Westboro Baptist Church held a public memorial at Time Square, praising God for exacting judgment on this proud sodomite.
While the WBC may know Swartz as a "fag," Swartz was actually bisexual and eschewed sexual labelling altogether. A documentary about the famed hacker premiered earlier this year.
Just before their protest, the WBC will also hold a Reddit AMA (ask me anything), adding "Westboro Baptist Church will use the Reddit platform, which is usually filled with vanity, science falsely so-called, and other sundry lies; to instead preach righteousness & spread the gospel."
A fourth Westboro member defected this last May, two months after the death of the church's founder Fred Phelps.